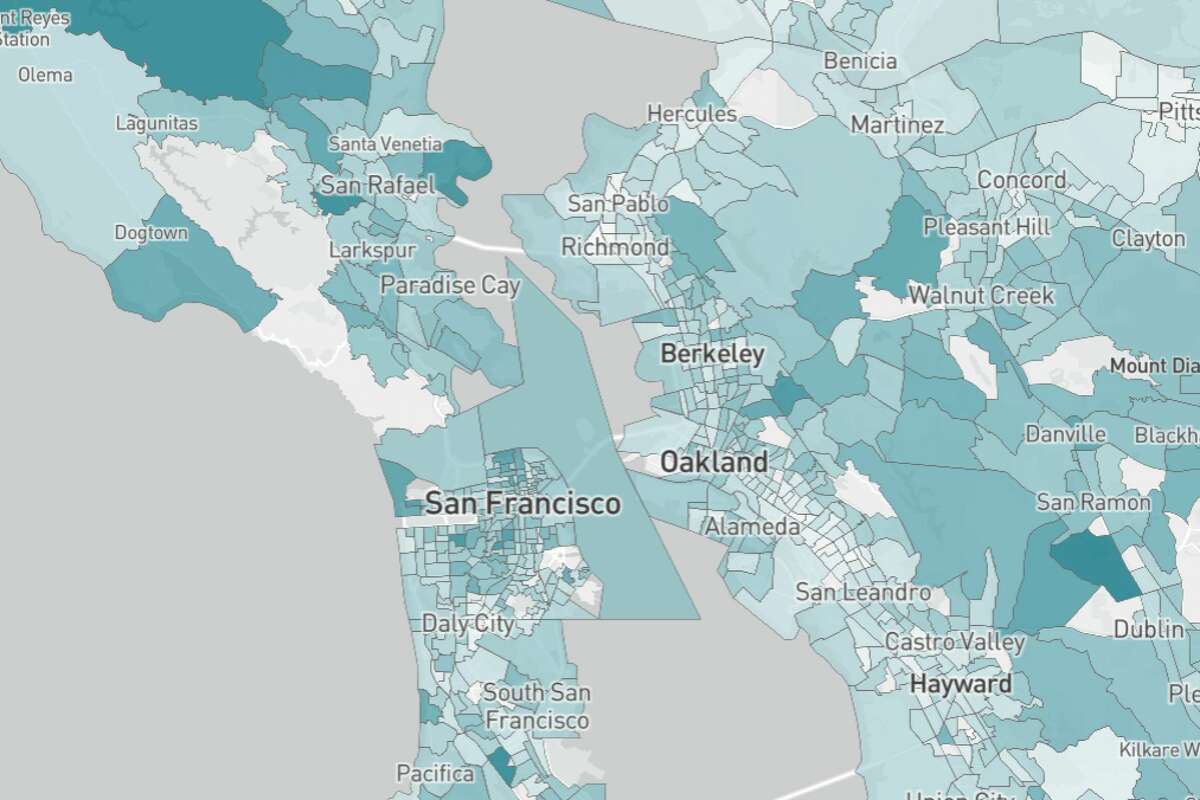 Share of businesses receiving PPP loans:
Source:
Geocoded loan data
from the Paycheck Protection Program 2020 (PPP) by Reveal from the Center for Investigative Reporting
The map shows data for census tracts in the 9-county Bay Area with at least 50 businesses and/or self-employed workers.
Pedro Rodriguez runs Santo Coyote, a popular Mexican restaurant on International Boulevard in East Oakland.  His business was upended overnight after local health orders — crucial in curbing the spread of the coronavirus — went into effect in March 2020.
Even though he ran a take-out operation, his sales dropped 90% in the months that followed, Rodriguez said through his daughter Yesenia, who was translating in Spanish for him.
"I didn't know what to do," he said. "I didn't want to lose my business but I had no idea where to look for help."
Like many business owners around the country, Rodriguez turned to the Paycheck Protection Program, the federal government's main response to the staggering economic effects of the pandemic. The $953 billion business loan program was supposed to be a financial lifeline to businesses teetering on the edge.
And it was — depending on their location.
A Chronicle analysis of data compiled by Reveal shows that, in the Bay Area, businesses in higher-income or predominantly white census tracts were far more likely to have received a PPP loan than businesses in areas that are lower-income or have a higher share of Black and Hispanic residents.
In higher-income census tracts (those with a median household income of $150,000 or more), on average, about half of businesses received a PPP loan, compared with about a quarter of businesses in lower-income areas (tracts with a household income of under $75,000).
Rodriguez's corner of International Boulevard in East Oakland is in the census tract with the second lowest share of businesses that received PPP loans in Alameda County  — at 5% among 364 businesses. The census tract with the lowest share of PPP loans for business is along a portion of Tennyson Road in Hayward, with around 123 businesses in that census tract receiving 3% of PPP loans. Both areas have a median household income under $70,000 and over 80% of Black and/or Latino residents.
Government data shows Rodriguez was approved for a modest loan of $2,200 in July 2020, though he says he has yet to receive the money. Five blocks north of Santo Coyote is Oak Tree Market. The convenience store is owned by Ali Mohammed, who said he abandoned his PPP application due to a lack of guidance and communication from his bank.
"After a while, it just wasn't worth it," he said.
Beginning in March 2020 and concluding on May 31, the PPP doled out nearly $800 billion, but many businesses were shut out of the first round when funds were crucially needed to stay afloat. A House of Representatives committee said in October following a months-long investigation that the "Treasury and SBA encouraged big banks to provide loans to their wealthy existing clients at the expense of truly struggling small businesses in underserved communities."
The Small Business Administration backs the loans, which are made by banks and other lenders. Businesses that use the money for payroll and other allowed expenses can have up to 100% of the loan forgiven, within a certain time frame. Or they can return the loan, or repay it at an annual interest rate of 1%.
The rollout of the program saw the neediest businesses left to fend for themselves as larger businesses, franchises and a generally wealthier bank clientele, with bookkeepers, business records and other resources on hand, rushed to apply and receive the loans.
The Chronicle spoke to more than a dozen business owners and six agreed to be on the record about their PPP travails. A host of issues including language barriers, the sheer amount of paperwork and documentation required for the complicated loan application and the inaccessibility of customer service personnel at banks, contributed to the frustration felt by business owners. The matter was exacerbated in lower-income communities of color compared to wealthier white neighborhoods.
The structural flaws in the program directly impacted who received the loans and the largest amounts of money, said Marisabel Torres, the California policy director for the Center of Responsible Lending, a nonprofit based in North Carolina.
"The program should have been more tailored from the beginning, to meet the needs of communities that really were feeling the most hurt, which unfortunately included large swathes of businesses that are owned by immigrants, Black and Brown proprietors, sole proprietors and people of color who really had the greatest need," she said.
The historical inequities in lending isn't a surprise, but merely an illustration of existing redlining, Torres said. Redlining is a systemic discriminatory tactic that's historically been used to deny services like housing and banking in communities of color.
"If you were to just look at where financial institutions are situated in lower-income communities and communities that are largely made up of people of color, you don't necessarily see as many mainstream banks or financial institutions," Torres said.
The lack of access to big banks and limited long-standing relationships with bankers contributed to the chaos and confusion for business owners who felt isolated, she said.
In North Oakland, Edward Hambrick saw his steady stream of customers come to an abrupt halt at his laundromat. While his was an essential business, his clientele's businesses — dental offices, gyms, yoga studios — were not. Individual customer visits also tapered off as people began to shelter and work from home.
His pre-pandemic revenue of at least $30,000 a month plunged by more than 80%. After a month of strict health orders, he had to lay off his five employees.
"I went through my bank initially, and that was a disaster," he said. "It's not just that they were woefully underprepared — they had closed, so you had to call and talk about this thing you didn't understand, and it looked like they didn't understand either."
Hambrick ended up using a non-bank lender, Square, to get two rounds of PPP funding for $11,800 each, he said. He was able to continue his laundry delivery service, rehire some of his staff and pay for other expenses.
Hambrick's business is in a census tract that saw 25% of its 348 businesses receive PPP loans, according to Reveal's estimates. The median income in the area is almost $83,000, and counts 38% white, 28% Black, and 19% Latino residents.
Business owners in predominantly Latino areas, like where Rodriguez's  Santo Coyote is located, fared the worst in receiving PPP loans. In the 10 census tracts with the largest share of Latino residents in the Bay Area, 22% of business owners received PPP loans. In predominantly Black neighborhoods, 23% of businesses got PPP loans, while businesses in mostly Asian and white neighborhoods fared better at 34% and 41%.
Rodriguez struggled for months to apply for a PPP loan. With his limited English, he sought help from family members, he said. Rodriguez kept getting "we are waiting for additional paperwork" messages from his bank, but he said he sent everything in with the help of his tax planner. During the wait, he struggled to pay rent for Santo Coyote, and for his home where he lives with his wife, daughter, four grandchildren and other family members.
Rosa Ramos co-owns Phat Boyz Car Stereo on that strip of International Boulevard. She chose not to apply for PPP due to fears of incurring debilitating and lingering debt. She said she was not aware the loans could be forgiven.
"It's too much to think about all of this, we're just trying to survive each day," she said.
Just 10 miles northwest from this enclave sits an area close to the Rockridge neighborhood that saw the highest percentage of businesses get PPP loans in Alameda County — at 83%. The area has a median income of $168,000 and is 67% white.
In San Francisco, a census tract located in the Inner Sunset had the highest percentage of businesses receiving PPP loans, at 85%. The area has a relatively high median household income of about $150,000 and low percentages of Black and Latino residents — 2% and 7%, respectively, according to census data.
Michelle Martinez owns Chloe's Closet, a recycled children's clothing store in the Inner Sunset. She declined to comment on her PPP loan amount, but said it was a relatively smooth process through Bank of America. She applied in May of last year and received her loan in June. The funds helped her keep her 12 employees throughout the pandemic, she said.
A block over is Ambiance SF, a women's clothing boutique owned by Donna O'Leary, who has two other Ambiance storefronts in San Francisco.
Of her 50 employees across her stores, she laid off 28 during the pandemic. Revenue plummeted with the shutdown. She applied for two rounds of PPP and got approved fairly quickly both times, "in a matter of weeks," she said. Her first loan of $517,000 took more than a month to arrive last May and her second of $470,000 arrived within a week of applying in August, she said.
Her long-standing relationship with her bank helped with the application process, and she sought help from her bookkeeper who kept meticulous records. Still, the paperwork was daunting even with all the resources she had access to, she said. She's now applying for loan forgiveness, "which is just as daunting, if not more," and is hoping for the best, she said.
"The (PPP) funds saved us from bankruptcy," O'Leary said. "Without it, we would be out of business. It saved us completely."
How we did this: Using data compiled by Reveal, The Chronicle examined the relationship between the demographic profile of a census tract in the Bay Area and the percentage of businesses located there that Reveal estimated received PPP loans in 2020. The analysis included over 1,400 census tracts in the nine-county Bay Area with at least 50 businesses and self-employed workers. (Census tracts are small geographical areas that generally have a population between 1,200 and 8,000 people.)
Reveal compiled PPP loan data from the Small Business Administration as of Dec. 1, 2020 and geocoded business addresses from Geocodio, a geocoding service. They then aggregated the data by census tract and estimated the number of eligible businesses in each tract by combining 1) the number of business addresses from the U.S. Department of Housing and Urban Development and the U.S. Postal Service and 2) the number of self-employed workers from the Census Bureau's American Community Survey.
The Chronicle then combined Reveal's tract-level dataset with demographic and income data from the Census Bureau's American Community Survey.